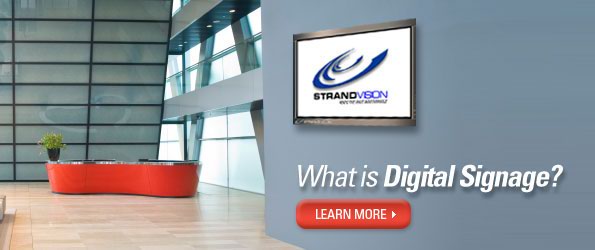 Benefits of Digital Signage
and why our clients choose us...
Digital Signage enables retailers to use vibrant, media-rich messages to deliver relevant information to the right audience anytime, anywhere. This method allows message control while delivering real-time content driven by time, location, demographics, and promotions. Displaying custom content in an electronic format communicates your message effectively and with ease, increases interaction and boosts your bottom line, customer retention and return on investment.
StrandVision Digital Signage offers comprehensive packages at an affordable price-point to provide a universal solution for any user's needs. Users receive a digital signage system offering flexibility to easily alter content and features to meet specific demands as needed. Enjoy the power and flexibility a StrandVision Digital Signage package brings to your fingertips.
Why Go Digital?
Whether the intention is to increase brand awareness, influence customer behavior or provide information, the compelling visual experience digital signage creates will ultimately increase sales.
Digital signage offers the opportunity to reach customers with tailored, dynamic messages. They grab attention and influence customer's decisions right at the point of purchase. While static signage and ads need to be re-printed regularly, digital signage offers savings in time, energy and resources. Communicate with your target audience while employing some of these key benefits:
Time Savings - No more waiting to print, mail or pick up! With digital signage, changes can be created and sent using a PC within minutes. Price-points, video and graphics can be changed anytime.
Cost Savings – In addition to reducing or eliminating shipping and print processing, StrandVision Digital Signage utilizes the newest technology to deliver our clients the power of digital signage without large, upfront investment – simply use your existing broadband internet connection.
Increased Sales – Research shows proven and quantifiable results in increased sales with digital signage in stores.
Flexibility – Rather than one image, digital signage offer the ability to highlight many items and feature multiple graphics to capture your customer's attention and influence behavior. The ability to change messages immediately for varied products, specific customers or current promotions.
We Make it Easy
Let our years of experience work for you. StrandVision has perfected the art of digital signage and knows how to get you the results you desire. We have worked steadily over the past decade to develop quality services and a network of highly-trained, registered affiliates to make the process of implementing a new digital signage system painless and exciting for our clients.
Technology has evolved drastically, even in just the past few years, and continues to do so. StrandVision works to stay ahead of the curve and take full advantage of changing technology to deliver digital signage to our customers over the internet from our network of servers. This enormously functional system is also cost-effective. As much as we offer our clients, it's what ISN'T needed that really stands out:
No need to install and maintain special computers or servers
No large, upfront investment in hardware or software is necessary
No long, complicated training; your staff can be up and running with our systems in hours
We know there are many options to choose from when you begin considering digital signage. StrandVision has spent years perfecting quality, dependable services. We're so confident you'll enjoy the ease of use and see quantifiable results, we give our valued customers a free digital signage subscription. We're proud of our systems and want you to be aware of all we have to offer.
A Sign By Any Other Name
Will still work as well. You may know digital signage by some of these other names:
narrowcasting
datacasting
digital in-store merchandising
retail television
electronic messaging
captive audience networks
digital messaging
electronic billboards
dioramas
video merchandising
All of these terms are encompassed by StrandVision's digital signage packages. We are here to assist you in every arena that digital signage exists; providing easy to integrate and use solutions and support every step of the way.
Popular Applications of Digital Signage:
Advertising & Promotion
Cinemas
Digital Menu Boards
Educational Institutions
Healthcare Facilities
Hotels, Casinos, & Resorts
Retail Advertising
Restaurants
Ticketing & Box Office
Theme Parks, Museums & Zoos
Visitor Information
Wayfinding
Advantages of StrandVision Digital Signage
StrandVision provides an aesthetically desirable solution while utilizing the latest in technological advances. Our proven record of success and satisfied customers over the past 10 years speaks to our dedication and expertise. We invite you to continue browsing our new website, where you'll find examples of our services and access to any information you may need.
Our vast knowledge of the industry allows us to provide our clients with innovative solutions to improve operations and customer relationships. StrandVision Digital Signage offer you the power engage and motivate your audience with beautiful digital messages. We deliver on our commitment to providing clients with an easy to use, reliable interface so that you may achieve profit growth and lead in your market.